Folding phones have come into the mainstream, thanks to companies like Samsung and Motorola, which have invested hundreds of millions in R&D and promotion for devices like the Galaxy Flip, the Galaxy Fold, and the newest Motorola Razrs. The funky form factors and cutting edge designs have Apple fans (like us!) hoping Apple will bring out an iPhone that flips to half its usual size. Call it iPhone Air, call it iPhone Flip … just call us when it's available.
Apple keep its secrets and upcoming projects close to its chest, scrapping more than it brings out. Even so, rumors about an iPhone SE 4 being scrapped and then revived has recently surfaced, and stories about Apple's efforts to develop an "Apple Car" sneak out of Cupertino. News about a folding phone falls into the same boat.
And lets be clear, a flipping iPhone seems inevitable. It could still be used when in a clamshell, such as being used as a kickstand for selfies, it fits better in your pocket, and so on.
There are plenty of benefits to an iPhone Flip. With this in mind, we've grouped up what we know about the rumored device, and what we'd like to see for it.
iPhone Flip: Design
A foldable phone? From Apple? In the absence of an actual product or confirmation from Apple that it's even working on one, artists have had a field day imaging what the device might look like. This series from Antonio De Rosa / ADR Studio Design imagines the first Apple foldable device, full of power, light, and with an amazing screen.
And yes, it definitely is something Apple has been considering. According to Patently Apple (opens in new tab) back in April 2022, a patent was granted to Apple for foldable iPhone displays that could feature transparent panels at the point where the display bends, giving the illusion that there are no hinges around this part of the display.
Even well-regarded supply chain analyst Ming-Chi Kuo repeated the claim in the same period of a foldable 9-inch iPhone in development, which only adds credence to the potential of a brand new design to come to the smartphone once we approach the iPhone 17 series.
I expected Apple to launch a foldable iPhone as soon as 2024 in my reports last year, but now it's clear this prediction needs to be revised. I predict Apple may launch its first foldable product in 2025 at the earliest, which may be a foldable iPad or a hybrid of iPad & iPhone. https://t.co/HGIDPFvdarApril 1, 2022
See more
Alongside these patents and rumors, the hype for an iPhone that can flip is even higher now that Motorola and Samsung have brought out similar phones already, and that's inspired some artists to create concept designs on YouTube.
It gives you a great idea of how one can be useful. However, while the iPhone Flip is nothing more than a rumor for now, here are five features that we'd like to see.
iPhone Flip: Features
Second screen at the back
When this hypothetical iPhone is closed shut, it would make sense to have a smaller screen beside the camera lens to showcase widgets that mirror the ones you can set on your home screen.
For example, imagine switching between an Apple Music widget to play an album, or an iMessage one to quickly reply to someone using some generated sentences, similar to how it works on an Apple Watch.
This would not only save time in folding out the iPhone just to do some of these small tasks, but it gives you a great way of glancing at information and dismissing it at a moment's notice.
Apple Pencil support
This accessory has never been made to be compatible with the iPhone, but with a Flip version, it could make more sense.
Harkening back to the Nintendo DS with its dual-screen and stylus, using the Apple Pencil for messaging, jotting down quick notes, or just as a way of playing games on an adjustable display could work well. The bottom half of the iPhone would allow you to write out a message, and the top half would show the output when it's sent to someone.
Better Battery
While battery life on an iPhone has gotten better in recent years, especially with the Pro Max iPhones, an iPhone Flip could go into a low power mode when it's closed and still be able to take calls and respond to notifications using a second screen at the back of the device.
Back Tap 2
Back Tap is a great accessibility feature where you can tap on the back of your iPhone to launch features and Shortcuts, but an iPhone Flip can go even further with the feature.
The ability to customize this further when the device is closed to launch playlists or the flashlight by swiping and tapping in a certain way could let you use the device without opening out the iPhone at all.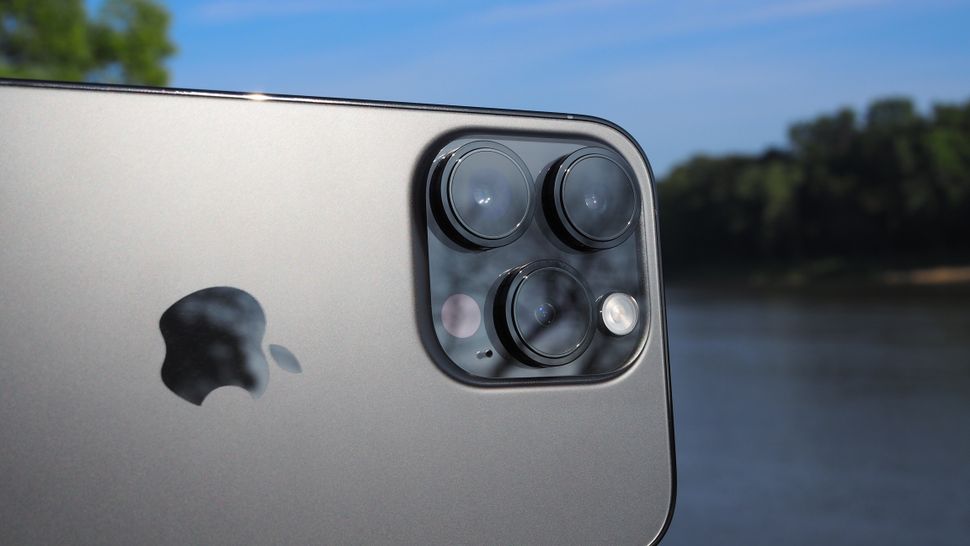 Better camera game
One of the best attributes of a design like this is being able to adjust the angle of the iPhone however you want, and this can also apply to when you're taking a photo or video.
Imagine putting your iPhone Flip into an L shape, placing it onto a shelf, and using that second screen beside the lens, you can adjust yourself within the frame, and it will take the shot, without worrying whether the iPhone will fall over.
iPhone Flip: Release date
Apple was granted a patent in February 2023, which seems to suggest that Apple is working on a product that will let people interact with multiple parts of the device — not just those that are obviously touch screens. It appears to suggest that Apple is set to go beyond the usual idea of making a phone bend in the middle and calling it a day. Instead, Apple describes users as being able to touch the side of the device to interact with a "virtual shutter button."
Regardless, the patent suggests that a release date of September 2025 could be likely. By then, the iPhone will be approaching its 20th anniversary of being on sale, and we could see a more diverse lineup by then. Fingers crossed!
iPhone Flip: Pricing — what to expect
With an upcoming iPhone already rumored to cost beyond $999 in 2024, a folding iPhone nano / Ultra could go even further at $1,499 to be the 'high-end' model for the line.
Folding phones don't come cheap, and they're not expected to go down in price anytime soon, so we're expecting an iPhone Flip to cost as much as a 1TB 12.9-inch iPad Pro.
Why iPhone Flip has to happen
A folding iPhone feels like the next logical evolution for Apple's smartphone. No one wants to have a bulging pocket of a 6.7-inch iPhone – we know someone who carries one in their back pocket, and it looks out of place.
An iPhone Flip will not only get rid of the bulging pocket, but it'll make it safer from falling out of said pocket. However, with its design, it will also help in situations where you want to take the perfect photo, so placing it will be an easier affair, compared to resting an iPhone 14 Pro on a wall.