Samsung's Galaxy Buds 2 aim to take on the AirPods Pro with ANC and a variable Transparency-style feature at a price that beats AirPods. Here's how Samsung's latest attempt at wireless earbuds fare against Apple's lineup.
In August, Samsung launched a plethora of new wearable devices, including a new model in its Galaxy Buds range. Arriving a year after the original and following after the Galaxy Buds Pro and Galaxy Buds Live, the confusingly-named Galaxy Buds 2 are yet another attempt by Samsung to unseat Apple's position in the wearables market.
The odd naming strategy isn't entirely out of place, as while it certainly isn't the second release in the Galaxy Buds lineup, it's Samsung's second version of its cheapest variant. Buds Live offered more battery life and an enhanced experience, while the Pro model aimed for further audio improvements and a spatial audio-style feature.
With the Galaxy Buds 2, Samsung is trying to incorporate some of the improvements from the Live and Pro into its lowest-priced option. This, ahead of what could be the launch of Apple's often-rumored AirPods 3.
While no one outside of Apple knows what that product will be like, we can still compare the Galaxy Buds 2 against Apple's existing product range.
Galaxy Buds 2 versus AirPods vs AirPods Pro – Specifications
AirPods
AirPods Pro
Samsung Galaxy Buds 2
Dimensions (inches)
1.59 x 0.65 x 0.71
1.22 x 0.86 x 0.94
0.83 x 0.82 x 0.66
Weight (ounces)
0.14
0.19
0.176
Case Dimensions (inches)
2.11 x 1.74 x 0.84
1.78 x 2.39 x 0.85
1.97 x 1.96 x 1.09
Case Weight (ounces)
1.41
1.61
1.45
Battery Life (earbuds)
5 hours
4.5 hours with ANC,
5 with ANC off
5 hours with ANC,
7.5 with ANC off
Battery Life (with case)
More than 24 hours
More than 24 hours
Up to 20 hours (ANC),
Up to 29 hours (ANC off)
Connectivity
Bluetooth 5.0
Bluetooth 5.0
Bluetooth 5.2
Microphones
Dual Beamforming
Dual Beamforming,
Single Inward-Facing
3 Mics,
Dual Outward Facing,
Single Inward-Facing,
Voice Pickup Unit
Sweat and Water Resistance
No
IPX4
IPX2
Active Noise Cancellation
No
Yes
Yes
Transparency
No
Yes
Yes (3 levels)
Dolby Atmos
Yes
Yes
No
Spatial Audio with Head Tracking
No
Yes
No
In-Ear Detection
Yes
Yes
Yes
Case Wireless Charging
Optional
Yes
Yes
Case Wired Charging
Lightning
Lightning
USB-C
Color Range
White
White
Graphite, White, Olive, Lavendar
Price
$159 with Charging Case,
$199 with Wireless Charging Case
$249
$149.99
Galaxy Buds 2 versus AirPods vs AirPods Pro – Physical Design
The AirPods are known for having a long stem for control and interaction, with the main differences between the standard and the Pro models being the length of the stem and the use of silicone tips on the AirPods Pro.
Samsung hasn't strayed far from the original design. The Galaxy Buds 2 still fit inside the folds of the outer ear, with a silicone-tipped section lodging in the ear canal. A difference for 2021 is that the Galaxy Buds 2 are rounder than before, eliminating the flat and edged outer section in favor of a smoother appearance.
The Galaxy Buds 2 are generally much smaller than AirPods and AirPods Pro, at 0.83 by 0.82 by 0.66 inches. The AirPods are thinner on one dimension, at 1.59 inches long by 0.65 by 0.71 inches, while AirPods Pro are bigger overall at 1.22 by 0.86 by 0.94 inches.
Despite the compact size, Samsung's earphones slot in between Apple's models at 0.176 ounces per earbud. AirPods weigh 0.14 ounces each, and the AirPods Pro are 0.19 ounces apiece.
Galaxy Buds 2 versus AirPods vs AirPods Pro – Cases
To provide power while on the move, Samsung has naturally added a recharging case to keep the Galaxy Buds 2 in.
Here, Samsung has taken what it learned from the Galaxy Buds Pro by switching the slim case for an almost square clamshell with rounded corners. While the outside is white, like the AirPods cases, the plastic inside the housing matches the color of the earbuds themselves.
In terms of size, Samsung's case is 1.97 inches by 1.97 inches and 1.09 inches thick. AirPods have a 2.11 by 1.74 by 0.84 case, whereas AirPods Pro uses a 1.78 by 2.39 by 0.85-inch case.
Samsung's certainly not made a case that's as thin as Apple's versions, but it's still reasonably compact overall.
On the weight side, its 1.45 ounces is slightly up from the AirPods case at 1.41 ounces, but still a fair bit lighter than the case for the AirPods Pro, which is 1.61 ounces.
Galaxy Buds 2 versus AirPods vs AirPods Pro – Sound, ANC and Transparency
One area that Apple's AirPods cannot beat Samsung on is ANC, as AirPods do not offer active noise cancellation. That is a feature reserved for the AirPods Pro and something also offered by the Galaxy Buds 2.
Inside the Galaxy Buds are a trio of microphones, with two outward-facing microphones accompanying one inner microphone. This is one more than the one-outer-one-inner strategy used by Apple, but that is only part of the equation for ANC processing.
While Apple offers a Transparency mode, where users can select to hear some environmental noise or engage full ANC, Samsung instead provides a little more variation for its version, with users able to choose from three adjustable ambient sound levels.
Furthermore, Samsung is reusing its Voice Pickup Unit in this model, detecting when a user is speaking. This lets the earbuds automatically switch from full ANC to an ambient sound mode, so the user can engage in a conversation with someone else nearby without changing modes for themselves.
Samsung also claims that the Galaxy Buds 2 will benefit from a "machine learning-based solution" to filter out background noises when the user is on a phone call.
Apple has fairly balanced sound in its AirPods, which in the AirPods Pro is accomplished by a custom high-excursion, low-distortion speaker driver, and automatic audio processing systems.
The Galaxy Buds 2 opt for a two-way speaker, handling woofer and tweeter duties, in an attempt to have a similarly balanced soundstage.
For listening to music, video, or spoken word, Apple has a slight edge. In our testing, AirPods brought out more detail in the music and had more substantial bass than the Galaxy Buds 2. AirPods Pro, though were on another level entirely, far outpacing both of the lower-cost solutions.
Galaxy Buds 2 versus AirPods vs AirPods Pro – Controls
Interacting with the AirPods is relatively straightforward, with taps on each used to control playback and answer calls and use a force sensor in the AirPods Pro for tasks such as switching between ANC and Transparency modes.
The Galaxy Buds offer capacitive touch-sensing on each earbud, so taps can be employed in various ways to manage music.
You also have voice control, with the AirPods naturally working with Siri and Samsung, bringing its virtual assistant, Bixby, into play with its earbuds.
Galaxy Buds 2 versus AirPods vs AirPods Pro – Power and Charging
On its face, Samsung appears to offer better battery life than Apple's earwear when it comes to music playback. The Galaxy Buds are said to provide up to 7.5 hours of playback time, down to 5 hours with ANC enabled.
By contrast, AirPods manage up to 5 hours of listening time, rising to 4.5 hours on the AirPods Pro with ANC on, 5 hours with ANC off.
Things get a lot closer when you consider talk time, namely bringing the microphones into play. Both AirPods Pro and the Galaxy Buds manage 3.5 hours of talk time, while the AirPods manage 3 hours.
The water is somewhat muddied when you bring the cases into play.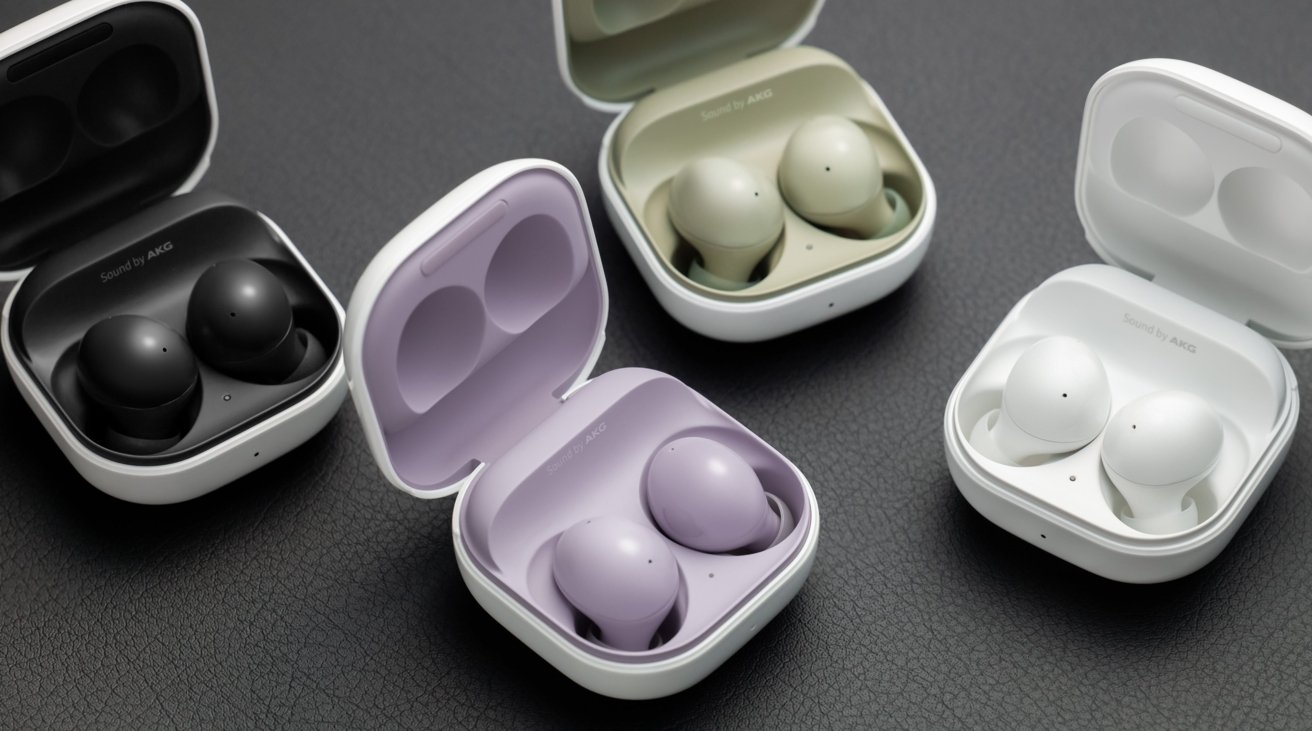 There's a variety of color options available with Samsung's earbuds, unlike the white-only AirPods line.
AirPods are said to last for "more than 24 hours" of listening time, up to 18 hours of talk time combined with the case. AirPods Pro, with its case, manages the same total lengths of time for listening and talking.
Samsung claims the total playtime of the Galaxy Buds 2 is up to 20 hours with ANC on, 29 hours with ANC off. However, under Talk Time, it manages only 13 hours with ANC on, 14 hours with ANC off.
Depending on how you view it, Samsung's Galaxy Buds 2 can undoubtedly stand alongside AirPods with ANC off but doesn't quite live up to its rivals for total talk time with the case. However, you will spend more time wearing them without a charging-related interruption.
The time spent recharging is pretty much comparable across the board.
Apple says the AirPods Pro offers an hour of usage from a five-minute case charge. AirPods offer up to 3 hours of listening from a 15-minute charge, approximately 1 hour for five minutes of charging again.
Samsung flatly says it manages 1 hour of playtime from 5 minutes of charging for the Galaxy Buds 2.
As for getting power into the cases, Apple offers a non-wireless Charging Case and a Wireless Charging Case for the AirPods, while the AirPods Pro case has wireless charging by default. Both accept a Lightning cable for direct charging.
Samsung's case includes Qi wireless charging support, along with USB-C.
Galaxy Buds 2 versus AirPods vs AirPods Pro – Pairing and Connectivity
Apple employs Bluetooth 5.0 in both AirPods products, benefiting from deep integration with Apple's ecosystem. It is reasonably quick to pair AirPods with your Apple devices, with no need to use a separate app for management.
Samsung has instead opted for Bluetooth 5.2, with codec support for AAC, SBC, and Scalable. That last one is Samsung's proprietary codec that focuses on reducing Wi-Fi interference for a more stable Bluetooth connection, a codec that isn't usable on iPhones.
At this time, Samsung does not have a companion app setup for the Galaxy Buds 2 on iOS. There is a Samsung Galaxy Buds app, but it is not currently compatible with the Galaxy Buds 2.
Samsung says this will still mean you can connect the Galaxy Buds 2 to an iPhone for calls and content and use the touch controls. Still, enhanced features such as equalizer sound controls and other management elements will be somewhat limited.
This isn't as much of a problem if you're using an Android device, but it is a problem when doing so in Apple's ecosystem.
Galaxy Buds 2 versus AirPods vs AirPods Pro – Other Features
Like the AirPods Pro, there is ear detection in the Galaxy Buds 2, with the earbuds able to tell if they are being worn or not.
AirPods Pro have support for Apple's Spatial Audio features, which AirPods lack. The Galaxy Buds 2 lack Samsung's counterpart feature, 360 Audio, which is available in the Galaxy Buds Pro.
Apple doesn't offer listed sweat or water resistance in AirPods, but AirPods Pro is, to IPX4. Samsung Galaxy Buds 2 are rated to IPX2, meaning it is less splash resistant than the AirPods Pro but offers a little more protection than AirPods.
Both AirPods and AirPods Pro have Find My support to help track them down when misplaced or lost. Samsung's Android companion app has a similar feature, but it's not available on iOS.
The AirPods and AirPods Pro are available in white only, whereas Samsung has Galaxy Buds 2 in Graphite, White, Olive, and Lavender.
Galaxy Buds 2 versus AirPods vs AirPods Pro – Pricing
Apple AirPods are available for $159 with the standard Charging Case, rising to $199 with one included. A Wireless Charging Case for AirPods can be acquired later for $79.
AirPods Pro are supplied with the Wireless Charging Case and cost $249.
AirPods deals regularly discount the entire range by $40 to $60, however.
Cheaper, but better?
It's hard not to credit Samsung here with progressing its wireless earbuds, introducing ANC with a variable ambient noise mode at a reasonably low price. If you were to look at just ANC and the price, you could say that Samsung has excelled itself, undercutting Apple's cheapest AirPods while offering a key feature of the AirPods Pro.
For Android users, it seems like a no-brainer to go with Samsung, but for Apple users, there's a lot more to think about.
Sure, it's roughly $50 cheaper than the AirPods with the Wireless Charging Case and $100 cheaper than AirPods Pro. That certainly cannot be ignored, especially since it has ANC.
But from an iPhone user's perspective, the ease of connectivity and the integration of the AirPods line with iOS will be a significant plus for Apple's personal audio over Samsung's. Without that companion app for greater control over the earbuds, it reduces the utility of the Galaxy Buds 2 to just the essentials.
Price may be a valid factor for many people, and paying $10 more for AirPods sans wireless charging and ANC may be a better option for those wanting to get the most out of their earphones, rather than opting for ANC and less control.
Where to buy
The cheapest AirPods prices are at your fingertips in the AppleInsider Price Guide. Updated daily, you can browse the latest prices at popular Apple resellers, with double-digit discounts readily available.
Meanwhile, Samsung Galaxy Buds 2 are currently available for $149.99. Retailers like Best Buy, B&H and Amazon also stock the wireless earbuds.