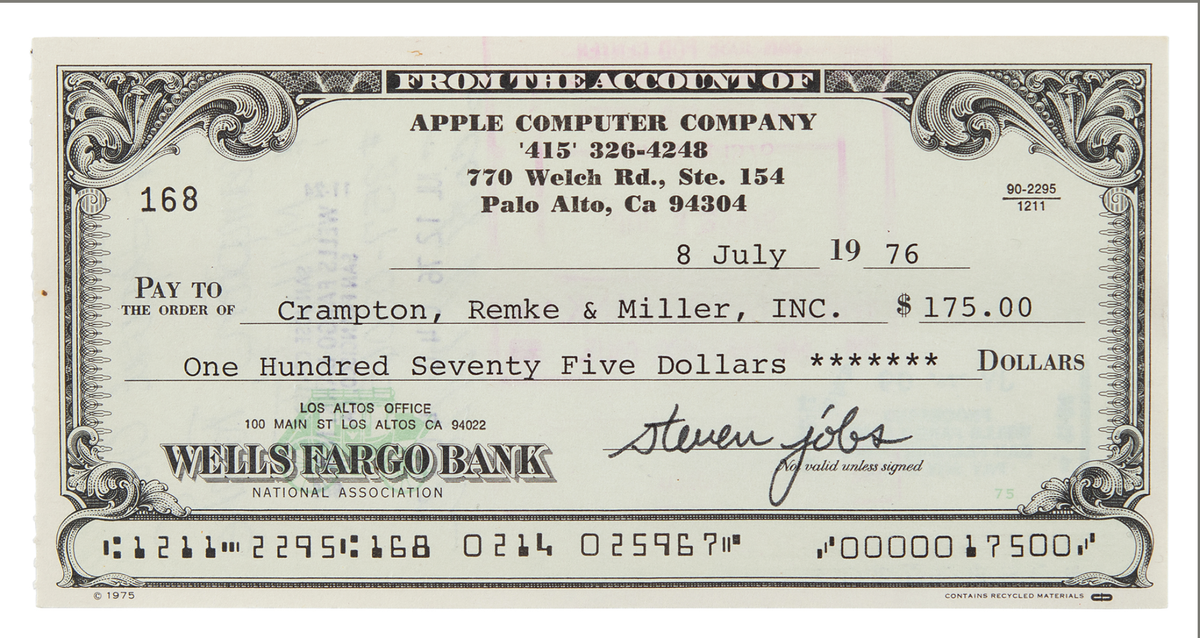 How much would you think that a $175 check would be worth? Now how much would it be worth if it was signed by Steve Jobs back in 1976?
Whatever number you're thinking of right now, we're willing to bet that it isn't as high as the number that someone just paid for it at auction. Because that number isn't just big, it's massive.
As of now, someone is the proud owner of that check having handed over a cool $106,985 for it.
That's a lot of money
The check itself was made out to Crampton, Remke & Miller, a management consulting firm out of Palo Alto that Apple had been using at the time. It was signed by Jobs and carried Apple's phone number and address — an address that happened to be the company's first official one.
"Jobs's hiring of such a firm during Apple's earliest stages demonstrates his eye toward long-term growth," the RR Auction (opens in new tab) entry for the check says. "During this period, the company had recently developed the Apple-1, secured its first big order, and set about trying to fulfill it. Steve Jobs and Steve Wozniak had to secure parts and components on credit, build the computers, and deliver them to retailers and individuals."
The check was described as "essentially flawless" which might have helped push the price up somewhat. But it seems unlikely that many had expected it to fetch quite so much.
The check was originally expected to sell for around $20,000.
It isn't unusual for Apple memorabilia to sell for huge sums of course. An original iPhone sold for more than $60,000 recently, for example, and that's just the start. People are willing to pay big money for just about anything if it's related to Apple, especially if it's from the early days of the company.