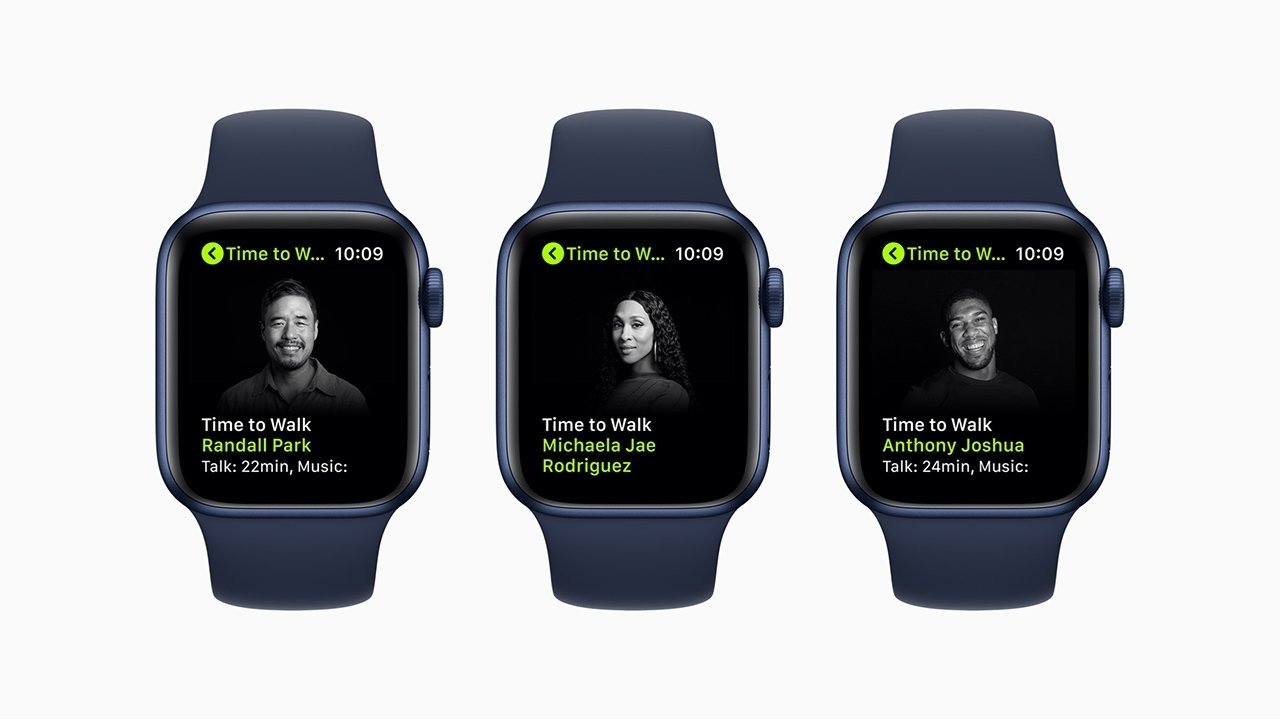 Apple's fall launches could include more than the "iPhone 13" and new AirPods, with the updated "Apple Watch Series 7" expected to bring with it an update to the Time to Walk feature to support running.
Apple launched its Time to Walk workouts in January, enabling subscribers of Apple Fitness to listen to celebrities such as Dolly Parton and Shawn Mendes as they walked for exercise. It seems that Apple is planning to expand on the concept before the end of 2021.
As part of Mark Gurman's forecast for the fall Apple launches for the Bloomberg "Power On" newsletter, an explanation of the changes to the "Apple Watch Series 7" includes a discussion about Time to Walk. Sources allegedly told Gurman that Apple was preparing variations of the feature, including "the self-explanatory Time to Run and Audio Meditations."
The "Apple Watch Series 7" is expected to include a "bit of a redesign," with a flatter display and upgraded screen technology, along with a faster chip. Other rumors point to an expansion of sleep tracking functionality, as well as 5G connectivity, and even speculation of glucose monitoring.
Gurman agrees the main launch will be the "iPhone 13," which will largely feature better cameras and more performance, while retaining the previous model's design. "In other words, a classic Apple S' model," He offers.
In terms of specific details, Gurman believes the same 5.4-inch and 6.1-inch screen sizes will be used for the regular models while the Pros will have 6.1-inch and 6.7-inch displays. A smaller notch will be used at the top of the screen, as previous rumors have already declared.
A switch in display technology will allow 120Hz ProMotion to be included in the Pro models, while the A15 chip will be faster than the A14, with the same core counts. Camera capabilities will include a video Portrait mode called "Cinematic Video," ProRes video recording, and an "AI-driven filter system" to apply different styles to photographs.
AirPods will also appear, with a third-generation model said to be closer in design to the AirPods Pro, complete with a new in-ear shape and shorter stems.
A refreshed iPad mini will also be on the way, with a complete redesign incorporating thinner borders. A slimmer ninth-generation iPad is also touted.
The rumored MacBook Pro revamp for the 14-inch and 16-inch models with M1X chips is still on the cards, but Gurman mentions there have been production delays. The two are expected to go on sale "by the time the current MacBook Pro hits its two-year anniversary."