You'll want to carry your MacBook Pro in Harber's Slim Laptop Backpack, and it's big enough to take cables, an iPad, and more.
Well designed, well made, strong, light — and that's just the bag it comes in. Harber's Slim Laptop Backpack is all of these things but the sense of care, the sense that you've bought something special, begins before you can even see it.
You're going to keep and use the protective shipping bag, but probably not for carrying your MacBook Pro. That will go in the Harber Slim Laptop Backpack, and it will be protected there.
It's not as if you could throw this under your car, but the bag protects the MacBook Pro in general use. It's protective, and it's functional — sufficiently lightweight that you won't notice carrying it, but distinctive enough that you won't ever leave it behind.
Design – what it can carry
The Slim Laptop Backpack is offered in two sizes: medium and large. The medium size is meant for laptops that are 13 to 14 inches in size, while the large one is for 15-inch and 16-inch models.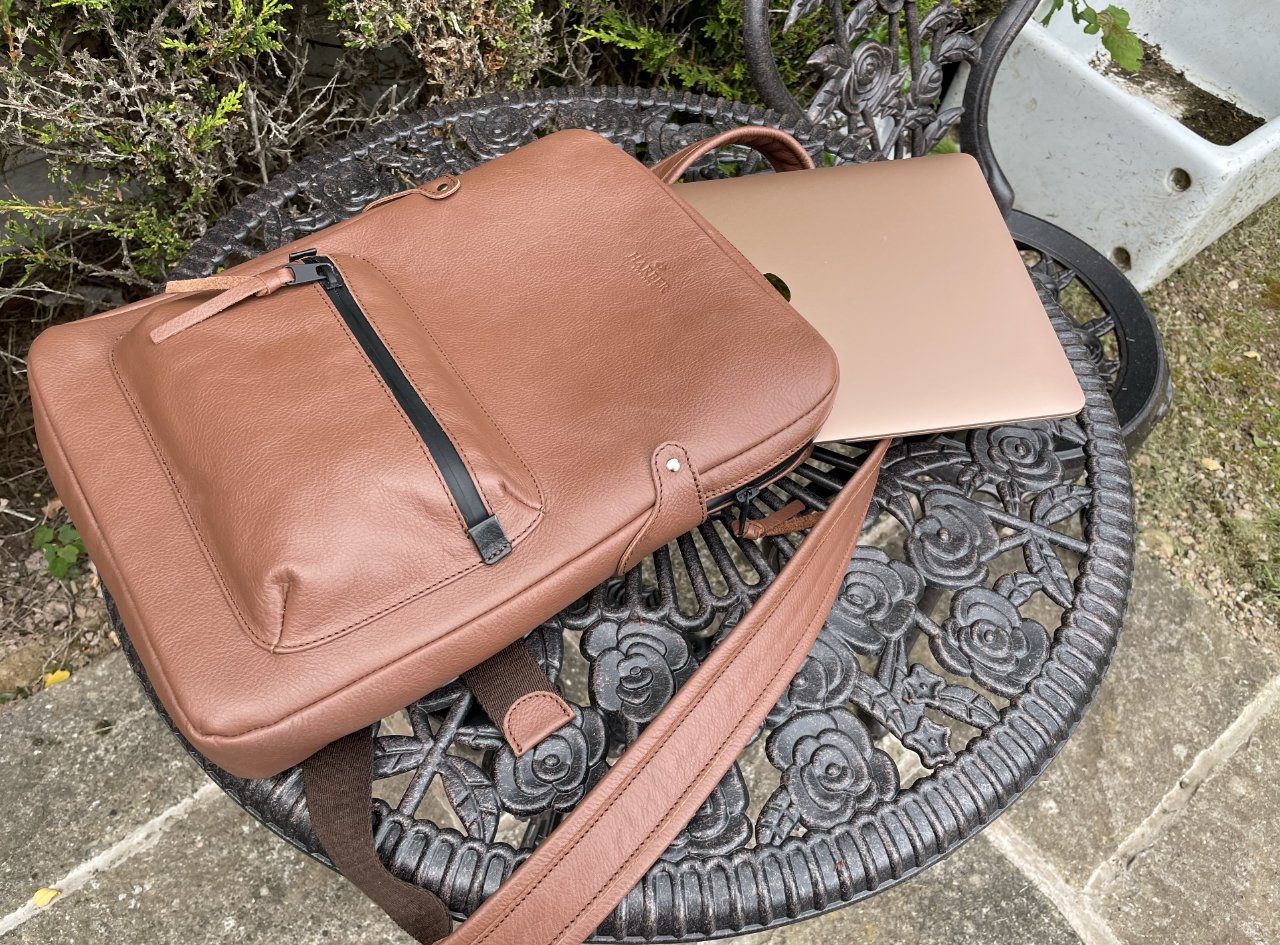 This medium size backpack neatly holds a 13-inch MacBook Air (pictured) or MacBook Pro
AppleInsider tested the medium-size version and a 13-inch MacBook Air sat snugly in it. There's room for a larger model, but the smaller one wasn't loose and didn't feel like it would move around much.
The main compartment has two pockets as well as its central area for the MacBook. There's a half-height and full-width pocket to the rear, made from the same internal, black, and soft material.
You can, of course, just carry an iPad in the backpack, and notably, the device doesn't seem to slip and slide around if you do.
Also, inside the compartment but in front of where the laptop sits, there's a leather segment with three sections. These could take cables, or perhaps pens.
This main compartment is sealed with a zip which the makers say is water-resistant. Another separate zipped section is on the backpack's front, which is the right size and shape to take a power adapter and mains cable.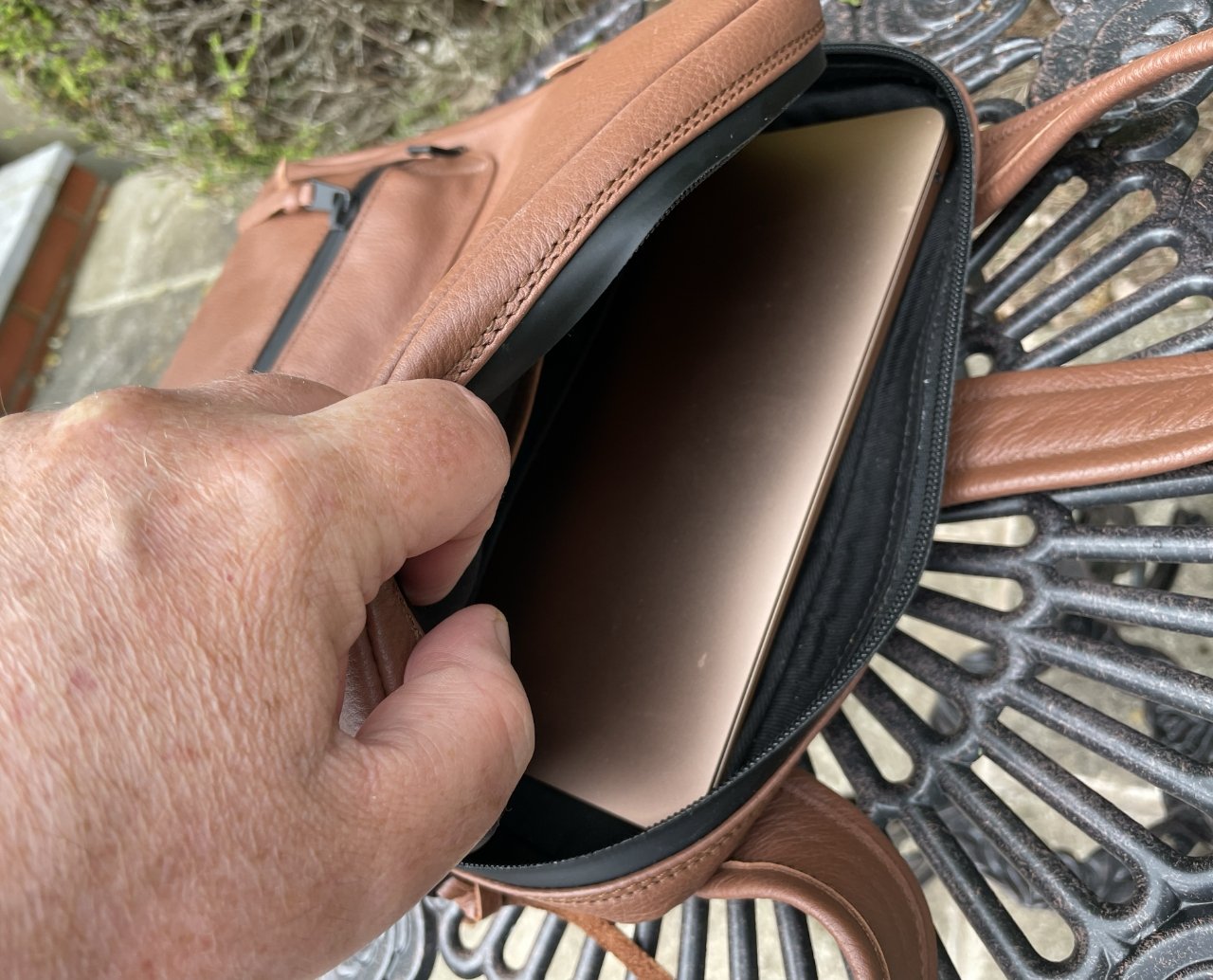 Interior space includes a central area for the MacBook, but also side pockets including one for an iPad
But this section also has a detachable metal keyring in a leather strap. You could attach keys to it, or you could connect AirTags, if you have a typical keychain-like holder for that.
Lastly, the backpack's rear has both two straps for carrying on your shoulders, and a third, horizontal one. That's for slipping this backpack over the handles of another suitcase.
Design – materials and options
The backpack is made primarily from what Harber describes as premium, Full Grain Leather. It's made to look good when you first buy it, but then also age well over the years of use you're going to put it too.
This leather comes in three colors. It's available in tan, black, and deep brown.
The softer material inside the backpack is black, and then there are the two zippers, and the keyring. These are all made from aviation-grade aluminum and are also in black.
So everything is meant to be hard-wearing, but the backpack is soft. Appealingly soft and very light, it's a pleasure to carry.
That does mean that this is carry-on luggage, though. It isn't built to be thrown about, and while it protects the MacBook inside, it's not an Otter-style hard case whose primary function is that protection.
Instead, the aim of this backpack is to be a convenient organizer, a handy holder for your device and everything else you carry around to do your work. It's meant to go with you, and so the lightness is part of that.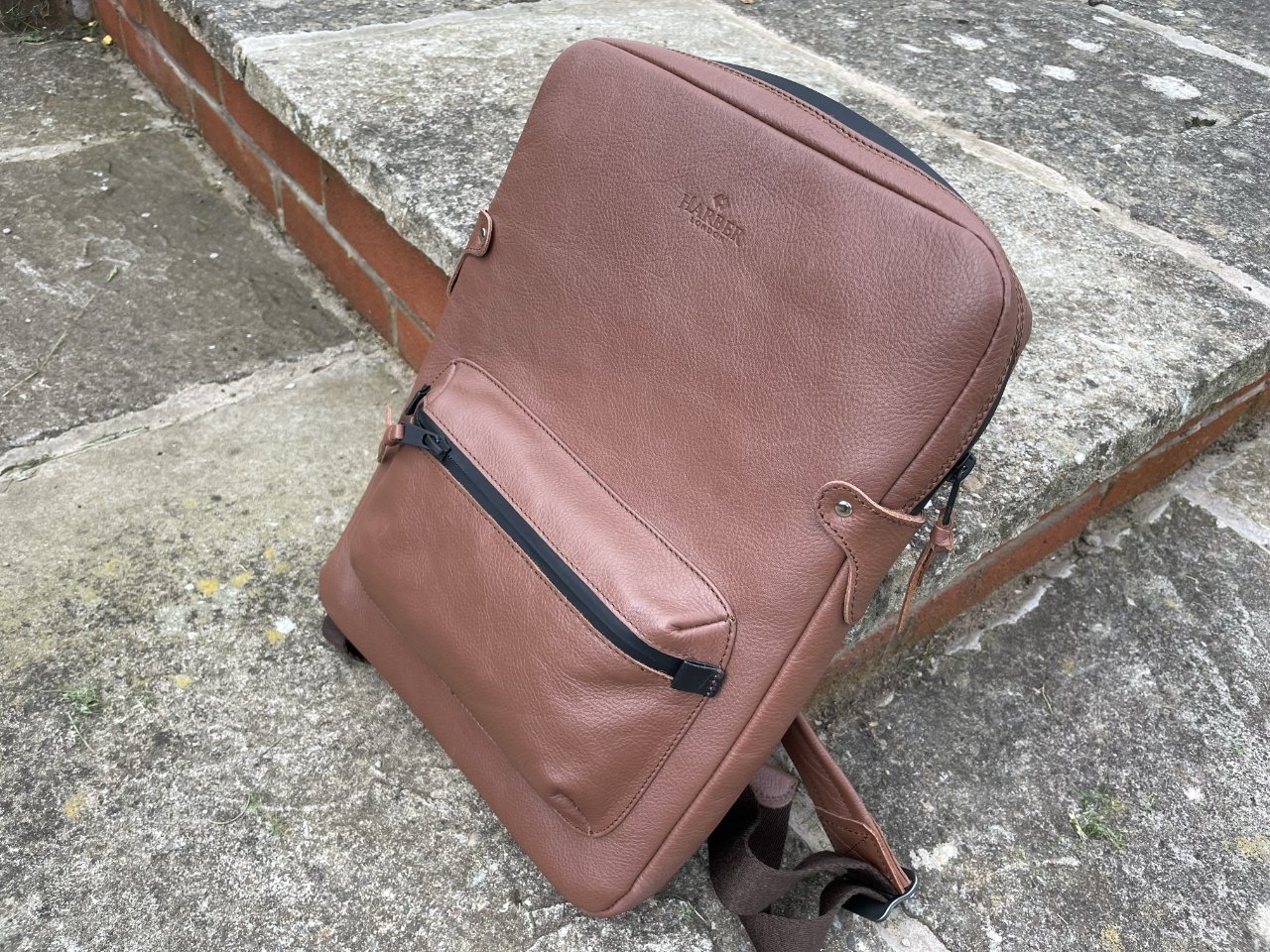 The exterior is fine grain leather with aviation-grade aluminium buckles
It doesn't need to be worn as a backpack. That is the best option, and if you choose to just loop a handle over one shoulder, you'll be readjusting its position all day.
But there is also a small grab handle on the rear of the backpack. It's hand-sized, just below the top edge of the bag, and above the section that's meant to loop over other luggage.
Should you buy
Yes. Get this for what it's intended, and you'll be carrying it around for years. That includes whenever you upgrade MacBook or other devices, or at least while Apple keeps making hardware in roughly the same sizes.
The Slim Laptop Backpack may be slim and meant for laptops, but it can carry a lot more. That makes this less a piece of luggage and more a constant companion.
Lightweight
Holds many different size devices
Has a lot of room for cables and anything else you need to carry
The handcrafted leather looks and feels tremendous
Buckles and zips are hard-wearing
Con
It's soft so device protection is necessarily limited
Expensive enough that it's not a casual purchase
Where to buy
The Slim Laptop Backpack is available directly from Harber in two prices. The medium-size backpack, suitable for 13/14-inch devices, costs $394. The larger one, for 15/16-inch laptops, is $422.