In recent times, with many of us working at least part of the time from home, it has become more necessary to have access to a printer in our homes. There are so many different types of printers available and it's important to make the right choice and buy one that suits your needs–and doesn't end up costing a fortune in inks.
In this article we round up the best printers available for Mac owners, as well as for those who want to print from an iPhone or iPad.
Which printer to buy: Inkjet or laser?
Laser printers are relatively expensive, primarily aimed at business users who need a high-performance device that can cope with the workload in a busy office. For home users, and people who work from home or in a small office, we recommend inkjet printers instead.
Inkjet technology hasn't changed much in recent years, and most inkjet printers still stick to the traditional method of using cartridges that contain four different coloured inks – cyan, magenta, yellow and black, also known as 'CMYK' – for printing everything from simple text documents to glossy photographs.
There are a few variations, though, starting with basic mono (black and white) printers that just use black ink on its own for printing letters and other text documents. At the other end of the spectrum there are specialised photo printers that may use five or six different coloured inks in order to produce really colourful, high-quality photo prints. Beware that there are hidden costs when it comes to the inks though, which we discuss below.
Mac compatibility
Another thing to consider as a Mac user is whether the features will all work with your Mac, and whether the printer has features like AirPrint, which will make the set up much simpler.
Most printers these days are Mac-compatible, but we have seen quite a few printers that work better with Windows PCs. The problem here lies in the driver software that controls the printer, which may be different on Macs and PCs. One common weakness is printer software that provides duplex printing–two-sided printing, on both sides of the page–for Windows, but not on the Mac. So it's always worth checking the technical info on the manufacturer's web site to make sure that the Mac software provided with the printer includes all the same features as the Windows equivalent.
Of course, Macs have always been used for creative tasks such as graphic design and photo editing, so many Mac users may prefer to opt for a more specialised printer that is designed for graphics and photographic work.
You don't need to be a professional photographer, either, as many people now use their iPhone or iPad to shoot selfies, portraits and landscape photos when they're out and about. This has given rise to a new generation of printers that are more focused on mobile devices, so Apple users should check that the printer supports Apple's AirPrint software – which allows you to quickly print from an iPhone or iPad without having to install any other software or apps first.
All the printers tested below are AirPrint-compatible, which means you won't need to install printer drivers and that your Mac, iPhone and iPad will instantly connect to them.
Above all else, you need to keep a close eye on the day-to-day running costs of your printer. Many manufacturers sell their printers as cheaply as possible, but you may then find that you get stung in the pocket with the cost of replacement ink cartridges.
Many of the printer manufacturers offer to monitor your printer to judge when it is about to run out of ink, and you can sign up for a service that will automatically dispatch ink cartridges to you. These deals often work out cheaper–and in some cases you may find that you get a few months free as part of a bundle with the printer. We've seen five months free HP Instant Ink subscriptions bundled with new printers on Amazon for example.
With all this in mind, here's our guide to the best printers currently available for your Mac and other Apple devices.
Best Mac printer 2023
HP Envy Inspire 7220e
Price When Reviewed:
$220
The HP Envy Inspire 7200e is a compact all-in-one inkjet printer which excels at producing crisp text documents and colour images including glossy photos quickly.
Costing just over $200/£100 to buy, the HP Envy Inspire 7200e is reasonably cheap to run as well, as it uses two HP 303 cartridges (black, and tri-colour), so replacing empties is less hassle than a four- or five-cartridge printer would be. The Envy Inspire 7200e can also take the larger XL-sized cartridges, which are better value for money. Busier users who need to print hundreds of pages every month will be better off with an HP Instant Ink subscription–most places selling the Envy Inspire 7200e will bundle in six months of free Instant Ink.
While the Envy Inspire 7200e can print on standard sizes of plain paper, it's limited to 4x6in (10x15cm), 5x5in (13x13cm) and 5x7in (13x18cm) glossy paper sizes – that's fine if you're only looking to print vacation photos, but a shame if you wanted to print on letter/A4 glossy. The only other drawback is the lack of an automatic document feeder (ADF), although the 1,200 x 1,200 dpi scanner, which takes around 12-15 seconds to scan at 300dpi, means the Envy Inspire 7200e can act as a photocopier.
The device is easy to set up and configure thanks to AirPrint support, and it's straightforward to send print jobs to the 7200e via Wi-Fi from your MacBook. There's also the HP Smart desktop and iOS apps, which allow you to run diagnostic tests and print files from Apple iCloud. Should you need it, there's a USB-B port on the back for a wired connection too.
Epson Expression Premium XP-6000
Price When Reviewed:
169.99
At just 349 x 340 x 142mm, Epson's Expression Premium XP-6000 (known as the XP-6100 in the U.K) is a good option where space is tight, yet it still squeezes in an impressive range of features: you get printer, scanner and copier, duplex, AirPrint and the option to print on DVDs, among other things.
This is a top-of-the-range printer with an emphasis on high-quality photos. Its fifth, 'photo black' ink adds definition, producing very bright, sharp images, and simple text looks good.
It's a quick machine, too. We recorded 13ppm for mono and 9ppm for colour, easily fast enough for most home users or small offices, and a respectable 35 seconds for postcard prints.
The XP-6100 is a good choice if you want to print high-quality photos, or maybe some eye-catching graphics for a school report. However, its running costs are a little high, which means it's best suited to occasional use.
Read our full Epson Expression Premium XP-6100 review
Brother DCP-J1800DW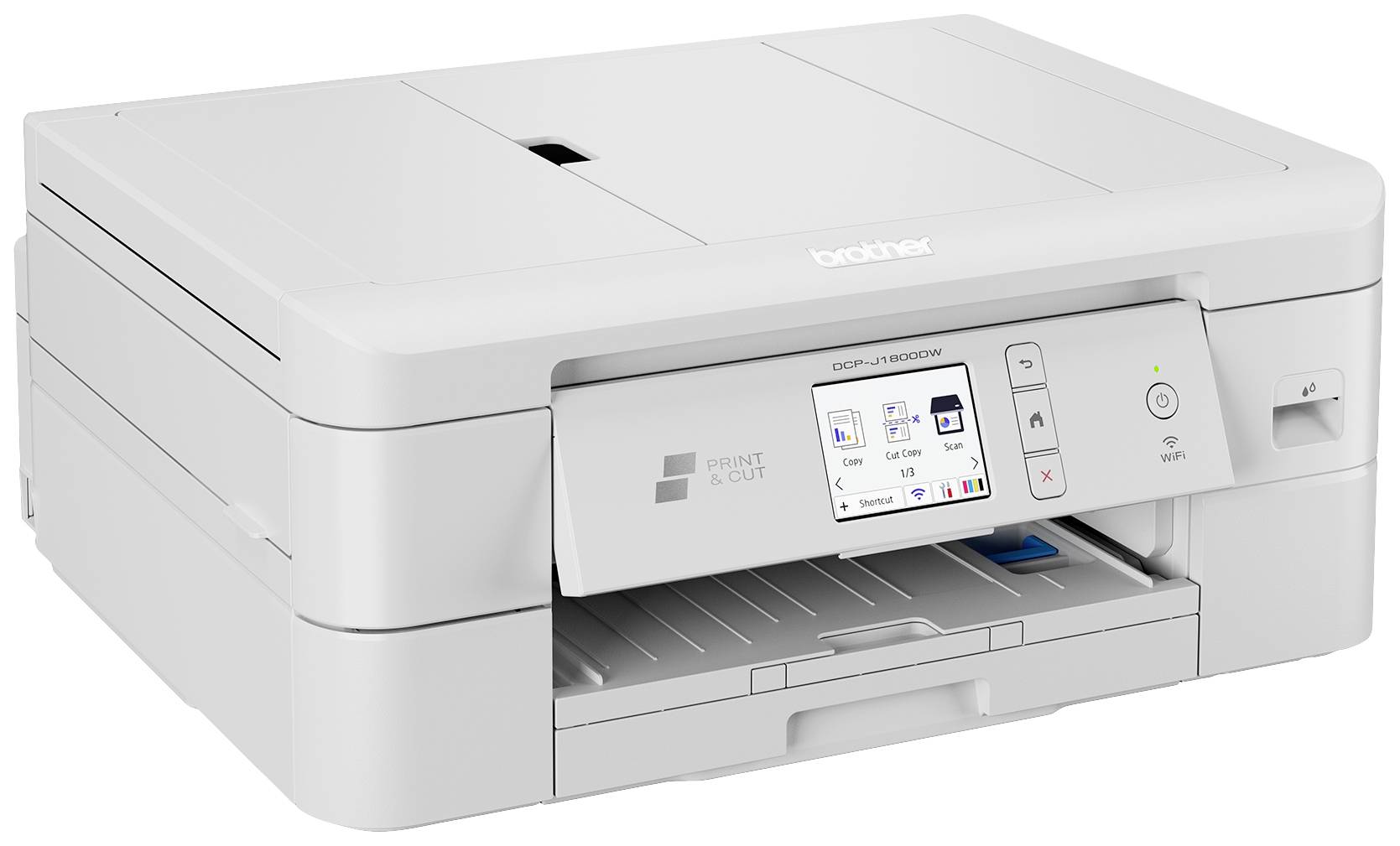 Price When Reviewed:
$245
This may sound like a bit of a first-world problem, but I often want to print smaller documents, such as address labels, that only need A5 paper, but I end up wasting paper by printing on A4 simply because I don't have a separate supply of A5 at hand. And, according to Brother's market research, around 46% of printer owners have the same problem with their office printers from time to time.
That's where Brother's DCP-J1800DW could come in handy for many people. Brother claims that it's the first 'print and cut' model aimed at home/remote workers and small businesses that includes a built-in guillotine that can chop A4 paper in half and print an A5 document for you instead (leaving you with a second piece of blank A5 paper that you can save for future use). The printer has just been launched in the UK and Europe, and should be available in the US and other regions quite soon.
In most other respects, though, the DCP-J1800DW is a fairly conventional multi-function printer. Along with a four-colour inkjet printer with 1200×6000 dpi resolution, the DCP-J1800DW also includes a 1200x2400dpi scanner and copier. The printer has a standard USB port for connecting to a Mac or PC, and also includes both wi-fi and Ethernet for network printing, with support for Apple's AirPrint as well.
Brother quotes a print speed of up to 17 pages per minute, but doesn't state whether this is for text, graphics or photo documents. However, we got a very respectable 14.5ppm for simple text documents and 12.5ppm for documents containing text and graphics. Photo printing was little slower, taking 57 seconds for a 4"x6" photo print on glossy paper, but the DCP-J1800DW isn't really intended as a specialist photo printer so that's probably not a major problem for most people. Print quality was good in all cases, with crisp, smooth text and colourful graphics and photo output.
You are paying extra for that built-in guillotine, though. The DCP-J1800DW is fairly expensive for a simple office printer, and running costs work out at around 6¢/3p per page for text documents and 9.3p/9.3¢ for text and graphics even when using Brother's high-yield XL cartridges. Those prices aren't too bad for a conventional cartridge-based printer such as this, but there are now quite a few 'eco' printers – such as Epson's Eco-Tank range – that use large ink tanks rather than replaceable cartridges in order to reduce running costs quite dramatically. So while the A4/A5 option provided by the DCP-J1800DW is very handy, its high costs mean that it's best suited for light office use rather than for busy offices that need to do a lot of printing every day.
Epson EcoTank ET-3850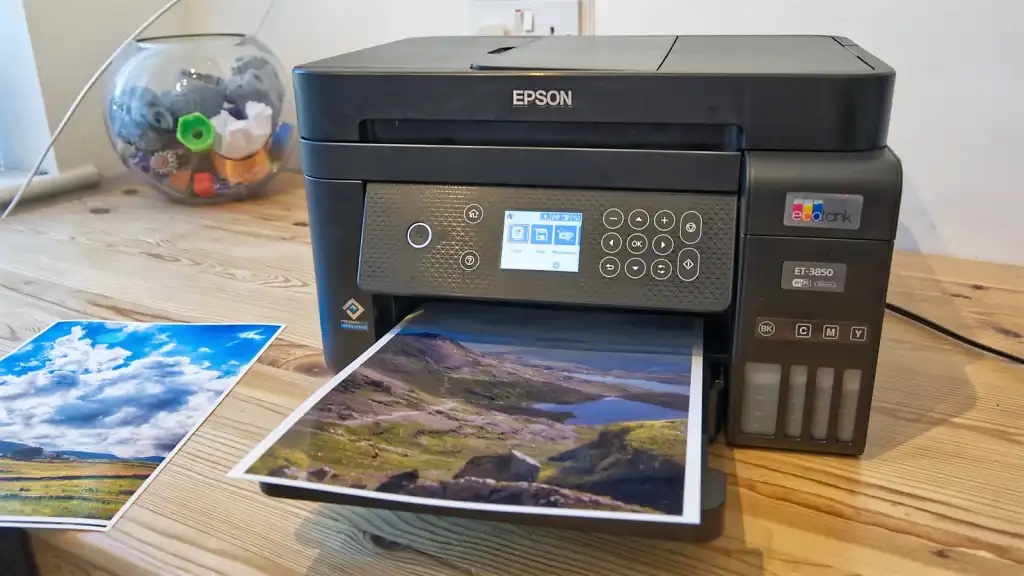 Price When Reviewed:
$399.99
Epson's EcoTank concept front-loads the cost by making the printer marginally more expensive but reduces the overall cost of printing by using a refillable reservoir. The ET-3850 offers a compact four pigment EcoTank design with an inbuilt ADF (automatic document feeder) priced and specified for the home office user.
The ET-3850 is small at just 14.76 x 13.66 x 9in (375 x 347 x 231 mm) (Width x Depth x Height) and weighs 14.7lb (6.7kg) before ink or paper is added. It can connect directly to a computer using USB, via the network using Wi-Fi or Ethernet LAN, making few limitations about where the printer can be situated.
All paper is placed in a 250-sheet tray at the very bottom because there is no manual feed. However, the printer's top hosts the ADF (auto document feeder) for scanning or copying multiple sheets. It can accept 30 pages and scan 1200 x 2400dpi (Horizontal x Vertical) at roughly five pages per minute. All printing controls are on a tilt-adjustable front panel with a tiny 5×4 cm screen.
The Ink reservoirs are on the front right, with the levels of ink clearly visible from the outside. Included with the ET-3850 are Epson 102 dye in Yellow, Cyan and Magenta, all in 70ml bottles, and there are also two black pigment bottles, each with 127 ml inside. That's enough colour ink to fill all the tanks and another complete fill for the black pigment. That much ink represents 14,000 pages of black printing (assuming a 5% coverage) and 5,200 pages of colour output.
The official Epson EcoTank 102 Genuine Multipack Ink Bottles cost £37.99 in the UK. Those in America have a slightly different notation, as the ET-3850 sold there uses Epson 502 inks, priced at $47.29. Individual colours or blacks can be bought, a black being around $15, and each colour about $11. This is one of the cheapest print per page printers we've seen. Even full page A4 colour printing isn't that expensive, at about 7p or $0.08 per page.
Once the ink is fully loaded, the printer goes through a ten-minute process where it draws ink into the printer ready for use, and then it proceeds with a print alignment routine. Bear this in mind if you need to print something urgently.
Epson Workforce WF-110W
Price When Reviewed:
$299.99
This compact Epson printer is just a printer – it doesn't include a scanner or copier as well – but is great if you are looking for a home printer to squeeze into a tight spot.
It's also ideal if you need a printer that is compact enough to cart around with you: it measures just 12.16in (309mm) wide, (6.06in) 154mm deep and 2.4in (61mm) thick, and weighing 3.5lb (1.6kg). It even has a rechargable battery you can use when it isn't plugged in. So it's perfect if you often need to print things out for clients while out on the job, for example.
The printer uses a four-colour inkjet mechanism and offers 5,760 × 1,440dpi resolution printing. Print quality is impressive thanks to Epson's pigmented inks, which are used for both colour and mono printing and produce bold colours and precise text.
When we tested it the printer managed 7 pages per minute for mono printing, and 4ppm for colour – but only when we were plugged into the mains, When run on battery power the print speeds are a little lower: 4ppm for mono and 2ppm for colour.
One of the drawbacks of such a compact design is that where other printers have the option of high-yield cartridges, which can keep the cost down, there is only one size of black and coloured ink cartridge here. We got around 250 pages from a £19 black cartridge and about 200 pages from a £15 tri-colour cartridge (cyan, magenta and yellow) which which worked out at about 8p per page for colour printing, and 7.5p a page for black and white – the latter is quite high.
Epson's ReadyInk service is available, but there is no discount or months free, unlike with HP's equivalent.
The single paper tray can hold 20 sheets of A4 paper as well as smaller paper sizes and envelopes.
It's a wireless printer that connects to your WiFi network and also works with AirPrint (so it's easy to print wirelessly from all your Apple products), but you can also connect it to your Mac with a USB cable. There's also Epson's iPrint app which is available for iOS as well as Android, and the printer also works with Google's Cloud Print service.
HP Envy Pro 6420
Price When Reviewed:
$129.99
The HP Envy Pro 6420 is a stylish and space-saving all-in-one colour printer that's compatible with Apple AirPrint, meaning getting this set up and running will be a breeze.
It's also priced at under £100 and is covered by HP's Instant Ink subscription plan so it's cheap to buy, and, with the right price plan, can be cheap to run, too.
While there's no control panel display on the HP Envy Pro 6420 itself, all print jobs can be queued remotely via the HP Smart desktop and mobile apps for macOS and iOS. The HP Smart app for iOS lets you print documents and images stored locally on your phone, as well as print files and photos stored in the cloud, whether that's iCloud, Dropbox, Evernote, Google Drive, Box, even Facebook.
The A4 flatbed scanner reads documents at 1,200×1,200dpi, and it prints in black in at 1,200×1,200dpi too, while colour images and graphics are printed at up to 4,800×1,200dpi.
Printing speeds and running costs are par for the course for a home office all-in-one at this price range, but when taken with a rolling HP Instant Ink subscription, the HP Envy Pro 6420 becomes very cheap to run indeed.
[Not sold in U.S.]
HP DeskJet Plus 4120
Price When Reviewed:
$99.99
The HP DeskJet Plus 4120 – also known as the HP DeskJet Plus 4155 in the US – is an entry-level all-in-one colour printer, scanner, and copier that's covered by HP's extremely competitive Instant Ink subscriptions.
If offers wireless printing, via AirPrint or using HPs Smart app, so you can print from all your Apple devices, not just your Mac.
Running on two cartridges – a black ink cartridge, and a tri-colour ink cartridge – the HP DeskJet Plus 4120 isn't any more expensive than your typical home printer, but with an Instant Ink subscription factored in, busy households, families, students, anyone who needs to print hundreds of pages every month can make big savings here.
Able to scan and print on paper sizes up to A4 (other paper sizes handled include B5, A6) at 1,200×1,200dpi, and copy pages at 300x300dpi, the HP DeskJet Plus 4120 can also print on glossy 10cm by 15cm photo paper.
The HP DeskJet Plus 4120 prints at up to 4800×1,200dpi in colour, and up to 1,200×1,200 in black ink, which means that as more colour ink is used for images, photos end up looking more vibrant and detailed, whether you're printing on plain A4 or glossy paper.
The only real downside is that text quality on the Normal setting is sub par, but you can improve this by moving the quality up to Best. And while doing so will use up more black ink, with the money you'd save with the right subscription, this shouldn't impact running costs in any major way.
[Not sold in the U.S. No longer sold by HP UK.]
Canon PIXMA TS7450
The Canon PIXMA TS7450 is an all-in-one colour inkjet printer, scanner and copier, aimed at home users, families and students.
Easy to use and versatile, the PIXMA TS7450 is both cheap to buy and reasonably cheap to run. While it uses cartridges and not a more economical ink tank, the larger XL-sized cartridges promise hundreds of pages of black and colour ink prints. The fact that it only needs two cartridges to run helps keep costs low.
Print speeds are good and quality is excellent, with text and graphics looking rich and sharp – although for photos you'll need to invest in some glossy paper, as prints of photos on plain sheets are middling.
As well as being able to print on standard A4, A5, B5, and Letter-sized plain and glossy paper, the Canon PIXMA TS7450 features a 1,200 x 2,400 dpi scanner, and an automatic document feeder (ADF), which lets you scan or copy up to 35 pages at once.
The Canon PIXMA TS7450 is easy to set up, too, as it's compatible with Apple AirPrint – so there's no need to install any drivers. You can also send print commands over Wi-Fi from your iPhone, or via the Canon Print and Canon Easy-PhotoPrint Editor apps for iOS.
These apps are filled with practical printing templates such as business card and photo ID, but are also come with a lot of fun features and creative options.
[Not sold in the U.S. No longer sold by HP UK.]
Apple, Mac