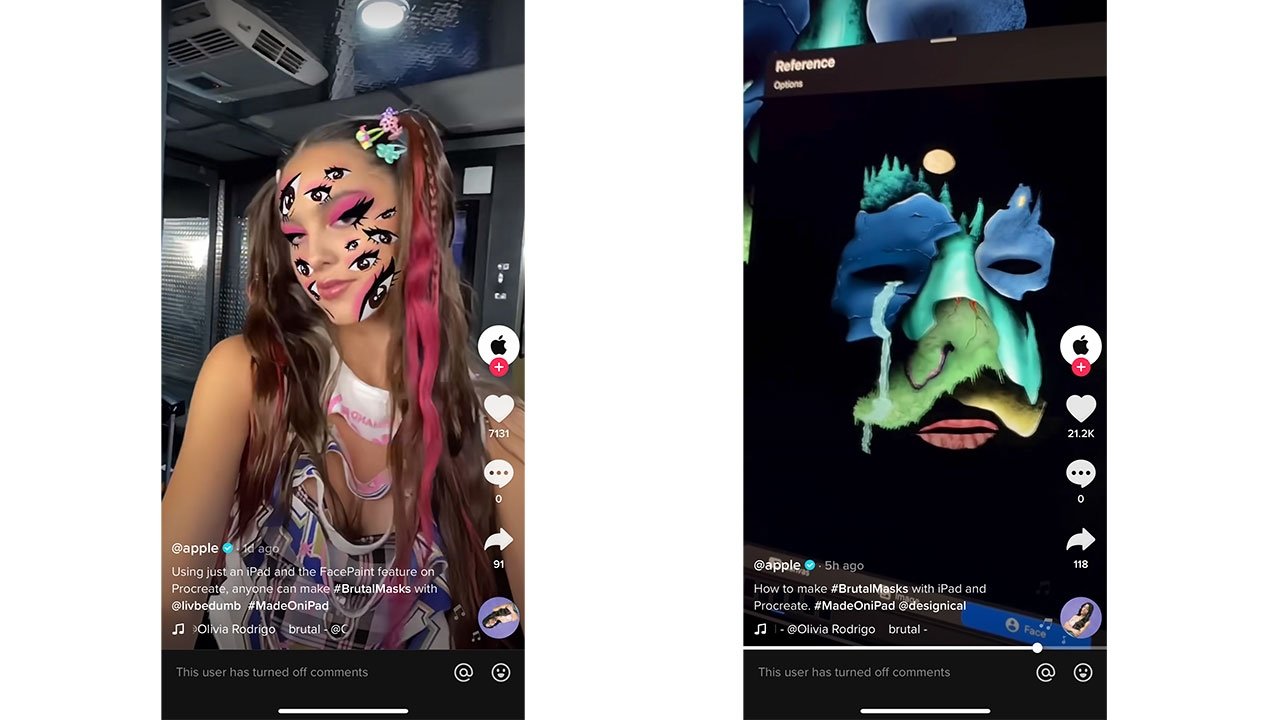 Apple is once again leveraging its presence on TikTok to push products and services, this time focusing on iPad and Apple Pencil.
The tech giant on Monday posted a video of Olivia Rodrigo using iPad, Apple Pencil and graphics editing app Procreate to illustrate animated face masks to go along with Rodrigo's song "Brutal." Rodrigo cross-posted the video to her own account the same day.
Subsequent posts to Apple's official TikTok account on Tuesday welcomed digital artists and influencers Braedon O'Brien, Designical and Fiona Viaje (fiona_art) to teach viewers how to create their own masks using Procreate's FacePaint feature.
Introduced last year, FacePaint lets users paint and overlay animations on their face in real time. The effect is the equivalent of a customizable mask filter similar to facial recognition filters offered through TikTok and other apps like Snapchat.
Each tutorial runs at about 45 seconds, longer than the usual TikTok post, but not reaching the service's recently updated three-minute cap. The company is attempting to drum up interest in the ads with the hashtag "#BrutalMasks."
Apple has used its TikTok account sparingly since hopping on the service in April 2020.
Last November, the company recruited a number of popular online personalities to advertise the then-new iPhone 12 mini. Influencers were also at the center of an AirPods Pro campaign in March.
Videos from Apple's old ad campaigns are now private, meaning the official account only displays the Rodrigo clips.
Apple's TikTok account boasts about 746,000 followers.